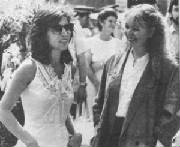 Olivia and Mary Hopkin
Beatle's Wife leads protest
June 15, 1986
Beatle George Harrison's wife Olivia yesterday led 250 youngsters in a demo. She linked up with singer May Hopkin to protest against plans to turn the only cinema at Henley, Oxfordshire, into a supermarket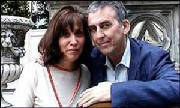 Olivia's Words of Outrage
People magazine; July 22, 2002
Michael Abram, who stabbed George Harrison in 1999 after breaking into his English manor, recently won his freedom. Forgiveness? Not so fast. "Deeply upsetting," replied Harrison's widow, Olivia, upon learning that a British mental-health tribunal had released Abram to a halfway house (he had served nearly 30 months at a psychiatric clinic). That news was salt in the would for the family of the former Beatle, who died last November of cancer at age 58. Abram, 36, who suffers from schizophrenia, was found not guilty of attempted murder by reason of insanity in 2000. Now responding well to antipsychotic medication, Abram said in a statement he "would give anything not to have done what I did."
His apology carries little weighs with Harrison's loved ones. "We can never forget," said Olivia, 55, who knocked Abram out with a lamp, helping save Harrison's life. "The vicious attack robbed George of the vital energy he needed at that time to maintain his health."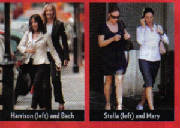 Originally from People magazine
When Mary and Stella Met…Mrs. George and Mrs. Ringo
June 9, 2006; The Mirror
Macca's daughters Mary and Stella met Ringo's wife Barbara and George Harrison's widow Olivia to work out how to help Paul cope with his marriage break-up.
A source said: "Olivia and Barbara helped Paul through when Linda died. And as Stella and Mary are closest to Paul they thought they'd come up with a way to help him". Stella, 34, and Mary, 36, emerged "visibly upset" after the lunchtime get-together at the Assaggi restaurant in Notting Hill.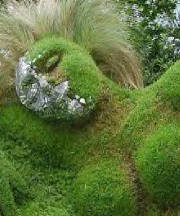 Olivia's Dream Purchase
June 16, 2006; Cambridge Evening News
The widow of Beatles' star George Harrison has bought the star of this year's Chelsea Flower Show. The giant living sculpture, called the Dreaming Girl, is on of the enduring images of this year's show and formed of the Garden of Dreams created by St. Ives garden designer Marney Hall. The garden, Marney's sixth Chelsea Show submission, won a coveted silver gilt medal. Olivia Harrison is said to have installed the 15 ft. long, 6 ft. high sculpture at the home she shared with her husband George- a fantastical late-Victorian gothic mansion called Friar Park, located in Henley-on-Thames. George died of cancer in 2001. His fellow Beatle, Ringo Starr, is said to have snapped up two pieces from the showpiece garden- a gazebo-like "stumpery" made of intertwined driftwood trees and a wood carving of The Sleeping Lady. Gardening fanatic Ringo, who wrote the Fab Four song Octopus's Garden, and his wife, Barbara Bach, opened the 4Head garden at the show. The garden featured 7,000 plants, healing herbs and a babbling brook. The Dreaming Girl was inspired by the famous Mudmaid from the Lost Gardens of Helligan in Cornwall. George was possibly the world's first green-fingered rock star, although Elton John, Mick Jagger, and Sting all shared his passion. He was a regular, if discreet, visitor to Chelsea and occasionally other Royal Horticultural Society shows. In 1980, when he published his limited edition autobiography entitled I, Me, Mine, he dedicated it to the "gardeners everywhere". He meticulously restored the 30-acre gardens of Friar Park, including the 30 ft. model of the Matterhorn.
Paul will be OK, Beatles' widow says
December 1, 2006; Toronto Sun
Olivia Harrison, widow of George, says Paul McCartney will come out the other end of his nasty divorce in one piece. "I haven't spoken to him in a while, but I did see him maybe a little over a month ago- and you know it's been a tough time for him," Harrison told the Sun. "But he's a resilient person and he has a lot of dignity and he's been through a lot in the past, he can take it. This is just unfortunate." Harrison was referring to McCartney losing the love of his life, Linda, to cancer in 1998. So is it a matter of the old saying- what doesn't kill him makes him stronger? "Absolutely," said Harrison, who lost George five years ago to cancer. "That's right, what doesn't kill you makes you stronger. I can verify that. So I think he'll be fine."
Ono remembers John's death
December 8, 2006, Toronto Sun
As hard as it is to believe, today is the 26th anniversary of John Lennon's death. And George Harrison's widow, Olivia, for one, likes Yoko Ono's idea to have the anniversary officially become a worldwide day of healing and peace. "I think it's a beautiful and appropriate sentiment, especially the way things are at the moment," Harrison told the Sun last week. "Any chance for peace, that's what John would have wanted to be remembered for."
Son of a Beatle
Meanwhile, Lennon's son with Ono, Sean, arrives in town next Wednesday for a show at the Opera House. Olivia Harrison says it's not easy being a Beatle offspring trying to make music.
"It's almost a curse, really," said Harrison, whose son with George, Dhani, has recently been in the studio. "But you know, if that's what they have to do then they should do it, and they don't have to do it in the same way. I tell that to Dhani, 'If music is in you and you have to make music, just make it.' The only warning I have is just make it for the joy of doing it, and not look for the outcome or the response. Because I think these (Beatle sons) seem to have always had to work harder to get the response that somebody else might get a little easier."
Beatles Downloads 'Imminent', Says Harrison's Widow
by Daniel Zugna June 4, 2007
George Harrison's widow Olivia Harrison has said that The Beatles' catalogue may be available for digital download by the end of the year.Mrs Harrison told the Reuters news agency, "We just have a few things to work out elsewhere." When asked if the catalogue would be available by the end of 2008, she said, "Oh God, yeah. Hope so ... I don't know if it would be the end of this year, but it would be nice. Imminent, let's put it that way."A settlement between EMI and The Beatles' Apple Corps publishing company in April paved the way for the digital release of the band's catalogue. Harrison also said that the digitally remastered CD versions of Beatles albums are on the way, noting that it was "ridiculous" that they still weren't available.Digital music pioneer and former EMI executive Tony Cohen recently told Undercover, "The future of the legal online world doesn't hinge on The Beatles being available. But I think it's a good thing, it removes one more barrier to providing a complete catalogue available on servers. It won't be all done just because the Beatles are available, but hopefully we'll be there pretty soon."