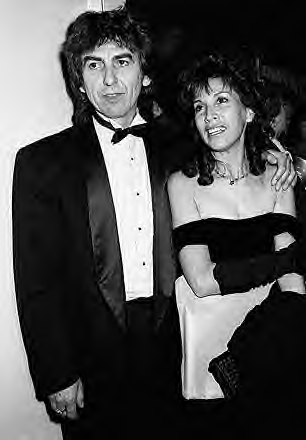 George Harrison Hits the Screen in Scorsese Doc
September 1, 2011, Rolling Stone magazine
By Brian Hiatt
Epic new film illuminates the inner life of the most enigmatic Beatle
As Paul McCartney, Ringo Starr, and George Harrison dug through their archives to assemble the Beatles Anthology documentary in the mid-Nineties, Harrison made a private volw to his wife, Olivia: "One day, I'll do my own anthology". The ex-Beatle, who died in 2001, never got the chance, but his wife made sure his wish came true in grand fashion. In October, HBO will debut Martin Scorsese's two-part documentary, George Harrison: Living in a Material World- and Olivia has compiled a lavish companion book packed with unseen photos and diary entries. "I'm fairly awed by what Marty has put together," says Olivia. "It's a story that truly captures the essence of George."
The project had its start in 2005, when Olivia attended the London premiere of Scorses's Bob Dylan documentary, No Direction Home. She shared her hope for a similar movie about her husband with the film's producer, Nigel Sinclair. After discussing possible directors for months, the pair "delicately approached" Scorsese. "To our surprise and delight, he said he was very intrigued by George's story," Sinclair recalls.
The center of the film is Harrison's spiritual quest, a search for meaning in life that began with a Beatlemania-era revelation that material success wasn't necessarily accompanied by fulfillment. "He was trying to find a way to simplicity, a way to live truthfully and compassionately," Scorsese says. "It was never a straight line, but that's not the point. I think he found an understanding: that there's no such thing as 'success'- there's just the path."
The new documentary includes new interviews with McCartney, Starr, Yoko Ono, George Martin, Tom Petty, Eric Clapton (who recalls watching Harrison write "Here Comes the Sun") and many more. But Scorsese and his team relied heavily on archives kept by Harrison himself: footage of the Beatles on vacation; a recording of Harrison's first sitar lesson with Ravi Shankar; home movies of Harrison fooling around in his recording studio with his son Dhani. "We set up a little production office in our house," says Olivia. "George lived in the house for 30 years, and he would just throw things in this drawer and that drawer. So every cupboard had something in it." The production team set up research offices in New York and London, working for years to find footage and photographs, including every filmed Harrison interview they could track down.
From their sleepless Hamburg days to their Let It Be-era squabbles, the Beatles' story has been told again and again, so Scorsese took great pains to use rare or unseen footage for the first part of the film. "The scenes of them running from hotel rooms and airports and such are just a little bit different than the ones you've seen," says Sinclair. "He approached the Beatles story from George's perspective, so it becomes a more inside, more first-person experience."
The film doesn't shy from Harrison's darker side, showing footage of a ravaged performance from his 1974 solo tour, and hinting at challenges in his marriage. "He never said he was a saint, but he always said he was a sinner," says Olivia. "He wanted to do everything in life. He really did."
The surviving Beatles provide some of the film's most powerful moments: McCartney makes an impassioned argument that anyone who thinks only he and Lennon were important in the group is wildly wrong; Starr begins to weep when he recalls visiting Harrison as the guitarist battled terminal lung cancer.
The post-Beatles section of the film has the most surprises, from intimate footage of Traveling Wilburys jamming to Olivia's harrowing account of a 1999 home invasion by a violent, deranged fan. It also gives equal weight to Harrison's nonmusical ventures: his work as a movie producer; his motor-racing fandom; his loving efforts to restore his country estate. "George thought hard about how to live his life after being a Beatle," says Sinclair, "and what I take away from this film is that he figured it out."
George Harrison and his women: Martin Scorsese's new documentary reveals the candid truth
The Guardian; September 4, 2011
By Vanessa Thorpe and Ben Dowell
Recollections by surviving Beatles and second wife Olivia cast new light on the emotional intensity that drove his music
Previously unseen private letters, home movie footage and intimate personal recollections of George Harrison are set to radically correct public perceptions of "the quiet Beatle" in a new documentary by Martin Scorsese.
Revelations include the fact that Harrison's widow, Olivia, struggled to keep the relationship with her wayward husband on track. In the film Eric Clapton also talks about how he felt consumed with envy as he fell in love with Pattie Boyd, Harrison's first wife.
Scorsese, who has focused his camera in recent years on musical subjects, from his history of the blues to a concert film of the Rolling Stones and an acclaimed study of Bob Dylan, No Direction Home, now sheds light on the self-confessed "dark horse" Harrison. Living in the Material World shows a man who – as well as being the stylish hippy of popular perception – had a caustic wit and a talent for deep friendship as well as an abiding obsession with his music.
Olivia Harrison, who produced the film with Scorsese and allowed unprecedented access to the family archive, talks candidly about her late husband's "challenging" attitude to other women and about the stranger who broke into the couple's home and nearly ended Harrison's life shortly after he had recovered from the first bout of the cancer that would eventually kill him.
She reveals that, although she and Harrison "seemed like partners from the very beginning" and shared a strong interest in meditation, their marriage survived a series of "hiccups". "He did like women and women did like him," she says. "If he just said a couple of words to you it would have a profound effect. So it was hard to deal with someone who was so well loved."
Paul McCartney also speaks about his old friend's appreciation of women: "I don't want to say much, because he was a pal, but he liked the things that men like. He was red-blooded."
Endurance was the key to the second, long-lasting Harrison marriage, according to his widow. "You go through challenges in your marriage and here is what I found: the first time we had a big hiccup in the road, we came through things, and then you go, 'Wow!' There is a reward at the end of it," said Olivia Harrison. "There is this incredible reward because you have lived through more and you have let go of something."
By the end, when her husband was ill, she was glad that they had "worked this through together. Through all these things that came between us."
She also reveals Harrison's fury at John Lennon's murder in 1980 at the hands of Mark Chapman. "He was angry John did not have a chance to leave his body in a better way," she says.
A few years later the Harrisons were to face danger themselves at the hands of a stranger. An attacker in what Olivia Harrison recalls as "a florid, psychotic state" smashed a window at their Friar Park home during the night and seriously injured them with a knife. "[George] thought that, after everything that had happened to him, 'I am going to be murdered in my own home.'"
Interviews with Phil Spector, who produced Harrison's first solo work, and with Sir George Martin reveal Harrison's central concern with music. Spector remembers an emotional intensity and an attention to detail. "Perfectionism is not the word. It went beyond that."
Harrison's widow says that his most important relationships were conducted through music and recounts that some of the lyrics to the song I'd Have You Anytime, written with Bob Dylan, were addressed to Dylan himself, whom Harrison felt had retreated from their friendship.
Clapton talks about the Camelot-like world of the Beatles and of feeling like he was an envious Lancelot. "I had become more and more obsessed with [George's] wife, Pattie," Clapton admits, describing how he confessed to his friend, "who was very cavalier" about it, almost giving him "carte blanche". Clapton adds: "To be honest there was a lot of swapping and fooling around."
Interviews with Eric Idle and Terry Gilliam confirm Harrison's crucial role in funding the Monty Python film Life of Brian by mortgaging his home. Harrison, through HandMade Films, went on to produce other leading British films such as The Long Good Friday, Mona Lisa and Withnail and I.
Ringo Starr is brought to tears on screen by the memory of his final conversation with Harrison who, dying in a Swiss hospital bed, still managed a bleak joke. Starr had to leave because his daughter was undergoing emergency brain surgery in Los Angeles.
"George said: 'Do you want me to come with you?' They were the last words I heard him say."
George Harrison: Living in the Material World is released on Blu-Ray and DVD on 10 October and will be broadcast by the BBC later in the year


Olivia Harrison talks about working with Martin Scorsese on a new documentary about Beatle George Harrison's life
September 26, 2011; by Catherine Jones, Liverpool Echo
Catherine Jones talks to Olivia Harrison about a new film documenting her husband's life
When George Harrison didn't know what to do with a bit of paper he would pop it in a drawer at home. If it drove wife Olivia mad she doesn't say, but his hoarding habit has certainly come in useful. Because when Olivia finally decided to create a cinematic legacy for the late Beatle, she discovered a treasure trove of letters, photos, poems and snatches of song lyrics. The result is George Harrison: Living in a Material World, a three-and-a-half hour documentary created by legendary director Martin Scorsese and being premiered simultaneously in London and Liverpool this weekend. "It's taken five years," marvels Olivia. "And to be honest, I'm happy it took this amount of time. "I was certainly not ready to rush through it. There was so much material that the first year was really the decision we were going to do this, and I'd had some of the archiving done but it was a real opportunity to go deeper into the material that I had – and that really took a long time." When George died in November 2001 his widow had a number of requests from people who wanted to create a documentary about him, but at the time she felt it was too soon. "And then," she explains. "It got to a point where I felt somebody may actually create it on their own, and I wouldn't have been happy about that because I don't think it could be rich enough without the involvement of the family." Having seen Martin Scorsese's Bob Dylan film No Way Home, Olivia put the feelers out to see if the Oscar-winning director might be interested. She recalls: "And that's when somehow I ended up meeting Martin Scorsese, and he had a very definite idea about the story." Scorsese says he 'jumped' at the chance to work on the picture. "Spending time with Olivia, interviewing so many of George's closest friends, reviewing all that footage, some of it never seen before, and listening to all of that magnificent music – it was a joy, and an experience I'll always treasure," he enthuses. And he adds: "The closer I looked at his life and his career, the more I was drawn to him, and to the way he coped with and learned from the peaks and the valleys. "I think he eventually came to understand the ephemeral nature of both success and failure." The finished documentary takes viewers on a trip through the 'quiet' Beatle's life from his Liverpool childhood to the madness of Beatlemania, the ups and downs of his solo career and the joys and pain of his private life, using interviews, music, photographs and rare and never-before-seen film footage. Speaking about the man he first met as a Liverpool Institute schoolboy, Sir Paul McCartney recalls: "He was a cheeky little guy, he wasn't cowed by anything. "He had a great haircut, this long hair that he quiffed back. We had a good friend Arthur and he used to describe it as 'a ****ing turban'. It was a marvellous thing." The film also features anecdotes from Ringo Starr, as well as George's brothers Peter and Harry, son Dhani, and friends and collaborators including Eric Clapton, Eric Idle, Sir George Martin and Traveling Wilbury Tom Petty. There's even racing driver Sir Jackie Stewart as George was a big Formula One fan. "He used to go to Aintree," explains Olivia. "And one of his fondest memories was sitting on the fence watching Sterling Moss and Fangio, so probably that's what gave him the interest." She adds: "It's extraordinary how you find people from different walks of life who, somehow, George has managed to be the thread that brought them together."So did Olivia discover things she wasn't aware of as she worked her way through the drawers and boxes at the Harrison home, Friar Park in Oxfordshire? "Oh yes," she smiles. "Lyrics, songs, a lot of lyrics and poetry from when he was quite young that never made it into a song. Just expressions. "For instance, maybe like a tin box with football cards and then some lyrics and things, sort of little time capsules that probably came back from his mum and dad's house." George himself can be heard in his own words either through archive footage of the guitarist, or in extracts of letters he wrote to his parents back in Liverpool (and which came back to him when they died) about the madness of touring and which are read over old footage from the 1960s. Olivia reveals that her husband, fired by working on the Beatles Anthology series, had a plan to do his own documentary. "I can't say what it would have included," she says. "But we were honest. Marty's created an accurate and honest documentary and I think that is probably the most soothing part of it for me. "You could make things one sided, but you can't sanctify him, he was human, so I think it's very fair." Some media coverage of the documentary has concentrated on George's attraction to women and the difficulties that caused. "I don't actually read those papers," says Olivia, who describes her husband as 'a very creative person, a very charismatic person, and just a fascinating guy'. She continues: "The film is George being a musician, George's interests and passions, but mainly what was it about him that he was trying to reach? "And that was what Marty was really interested in – what is it that gives a man true life when you have such a chaotic life? What is it you are looking for that transcends all those diversions? "I think that's what makes it a very interesting story in a very material world, a man looking for something more satisfying than all the success that he had." So has it been a cathartic experience, going back through all the old memories? "It's emotionally exhausting really," admits the 63-year-old. "Because even watching the film, when I'm seeing one shot I'm thinking 'oh I remember what happened that morning' or 'after that we went somewhere else' and then the next scene happens and there's all this calculating going through your head, it's exhausting, by the end actually I've travelled 20 years." Only a proportion of the material Olivia uncovered was used in the film, so she has included the rest in a book, also called Living in The Material World, which is published next week. Meanwhile November 29 marks the 10th anniversary of George's death. But Olivia maintains the timing of the film and book was not deliberate. "We started five years ago and I had no idea we'd still be doing it," she says. "And I'm really glad because the process allowed me time. I feel ready now to let it go and for it to be out there. I didn't feel ready a year ago, or two years ago, or three years ago. "The film is beyond my expectations. I had no idea it was going to be so profound, it really is. It's a powerful film and Marty is just extraordinary."
George Harrison: Living In The Material World will be premiered at Picturehouse at FACT on Sunday at 3.30pm. Tickets £12-15.
It will also be screened in selected cinemas on October 4, and available to buy on DVD and Blu-Ray from October 10. The book of unseen photographs and illustrations is available from October 3.
George Harrison's life was transformed by India says Olivia Harrison
By Nyay Bhushan October 22 2011; The Hollywood Reporter
In an interview with THR, Olivia Harrison explains why "George Harrison: Living in the Material World" comes "full circle" after presenting the film at the Mumbai Film Festival.
MUMBAI – A major highlight of the recently concluded Mumbai Film Festival was the India premiere of the Martin Scorsese-directed documentary George Harrison: Living in the Material World. Two extra screenings had to be added for the four-hour long documentary to pacify audience demand given the late ex-Beatles' India connections.
"Part of the completion of the film is to bring it here, that's why I especially came down to Mumbai (accompanied with the film's editor David Tedeschi)," Olivia Harrison, who was married to George Harrison, told The Hollywood Reporter in an interview. "The full circle is really having it here."
While an India distributor has yet to be finalised, the film's festival screening could increase awareness about the project's marketing potential here.
A frequent visitor to India over the years with her late husband, Harrison's latest trip brought back the memories, "This morning I put on the album Call of the Valley (which features acclaimed Indian classical musicians such as flautist Hari Prasad Chaurasia) and I suddenly felt like 'Oh my God, I have to go out into the countryside.' I suddenly felt like all of that memory came back to me. Because when George was in India, he wanted to be in the real India, in someone's home, in the temple. He didn't want to be in the city doing city things though he did that too and had fun. This morning I really landed in India just by listening to that music. George used to always say that if ever you are not feeling right, you should listen to Bob Dylan's Last Thoughts on Woody Guthrie and Call of the Valley."
|Considering the wealth of material, the challenge of cutting down 600 hours of footage available for the film makes the editor's job quite important. Explaining how he got direction from Scorsese, Tedeschi said, "The most important thing in a way is that we would sit and talk for hours and hours about (Scorsese's) vision for the film but also in a way he was thinking out loud. The subject is very delicate and Marty saw a lot of danger in how you confront it. There's 600 hours of footage and I have seen it all, Marty has seen hundreds of hours if not 600. And then we felt our way through (starting with) the first 15 minutes for which we would have ideas, the way the war sequence comes in and how the music comes in. I think that formed the whole movie. You know on a set the first action a director gives to the actor is the most important thing. That's the same thing working through the first 15 minutes on this film."
Comparing what audiences in the west and east could take from the film, Harrison expanded, "In the west I think what they took is the music since they knew George because of his music. In India I think it would be to know that George was sincere about India. India was not a fad, it was not a passing fancy to him. And that the philosophy, the culture and the people meant something to him. India transformed George's life in every way. I mean he actually produced music here as well. There is dialog in the movie where George is producing (instrumental sessions) in 1969 in Mumbai (for the Beatles track) The Inner Light featuring Hari Prasad Chaurasia and other musicians. And you can hear him via a translator in Hindi telling the musicians what to do. I think that was just an incredible thing for such a young man at that time."
With India among the rising economies of the world, it is safe to say that the country is now living in the material world like never before, something which intrigues Harrison, "In 1976 when we came here, George was saying, look they are wearing nylon sarees and the men are wearing platform shoes. To him that was an indication of what was to come. He was sort of sad about that because he always seemed to go to the khadi (traditional handspun cloth) shop and buy kurtas (Indian men's shirt). But the west is going through a lot of searching – thats what living in the material world does to you, it makes you want to go inwards. India has been in, it needs to come out. America has been out, it needs to take the inward journey."|
But does Harrison see the film offering a new insight on India to outsiders?
"All the diversions and distractions in the west, India is multiplied," she says. "I remember once when George and me were in Jaipur, George looked out the window and just said "Cut! Cut! Too many extras!" But in spite of that, George managed to find the very subtle India – which was an inner thing. I think maybe that is what people should keep their focus on – the riches it has to offer as well as all the wonderful diversions."
George Harrison's Wife and Giles Martin Discuss Scorsese Documentary, Bob Dylan and Being 'Stifled' by the Beatles
May 1, 2012; Washington Post
NEW YORK — George Harrison's widow Olivia hopes to add more perspective on the reticent Beatle with her new digital book, and fill in the blanks left by Martin Scorsese's recent documentary.
Based on Scorsese's "George Harrison: Living in the Material World," the multi-touch book of the same name is available Tuesday on iBookstore. It includes audio, video material from the film along with personal photographs, letters, and memorabilia never seen by the public (a traditional print edition of the book has been in stores). Along with the multi-touch book, the DVD of the documentary also comes out on Tuesday. Scorsese's three-and-a-half hour film on Harrison shows his spiritual side, from his early days with the Beatles to his exploration of Eastern music and religion, and also includes his death in 2001. In a telephone interview from London, Olivia Harrison, who served as one of the film's producers, said she loved the message of the film, but felt it didn't cover her husband's other "sides." "Marty chose the music for the narrative and it drives the story. I think he fit the music perfectly in there, but there's was a point when I realized, 'Oh wow, we're not going to get past 1975,'" Harrison said. She noted the absence of the song "Taxman" and his 1987 comeback album, "Cloud Nine." "It was clear, pretty quickly, that we could not fit everything," she acknowledged. And she notes that the Harrison documentary, which aired last year on HBO, includes more of the ex-Beatle's career in comparison to Scorsese's "No Direction Home: Bob Dylan," which covered Dylan from when he arrived in New York in 1961 to his eventual switch to "electric." "You know, that documentary ends in 1966. That's it. And you know the volume of music that Bob (Dylan) has produced since then," Harrison said. "Both are three-plus hour movies, yet this one covers a bigger span of George's life." The documentary covers his early years with the Beatles and post-Beatles solo career. Much of the emphasis is on the former Beatle's travels to India as he explored both the spirituality and music of the country, as well as his collaboration with Ravi Shankar. Giles Martin, son of the Beatles legendary producer George Martin, did some of the music production on the film. He said Harrison enlightened his father when it came to Eastern music and instrumentation. "He pushed the boundaries with his journey through Indian music," Martin said. "My dad said when George brought (his song) 'Within You Without You' to (the Beatles album) 'Sgt. Pepper's Lonely Hearts Club Band,' he didn't know what to make of it. In that context in that time, 1966, world music wasn't readily available," he added. "So he introduced my dad to the sitar." Harrison said her husband's ability to translate what he felt in the world in a way that speaks to everyone was at the heart of his gift. "I think it was the dilemma of life, and where you find yourself, that appealed to him most," Harrison said.